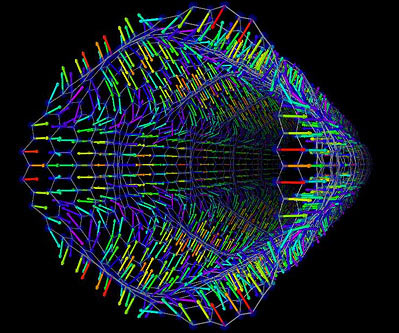 When we consider that all reality is ultimately information miracles become plausible. Time, space, matter, living organisms, even our thoughts are information patterns that could be expressed as a mathematical algorithm. Therefor if those algorithms could be re-written, the outward expression of reality would change.

Now if the divine Logos sustains the universe at each moment by his conscious observation then it is possible for him to choose to re-arrange the

constituent

information to produce new effects in the physical world. Just as changes in computer code produces different graphic effects on a screen.

Christ performed miracles as recorded in the New Testament to prove that he was the Son of God. Two of his best known miracles was turning water into win and walking on water. Study of the stories show that details of the miracles were meant to convey larger truths. The wine from water signaled the beginning of Christ's mission which would end with wine served at the last supper and in the new Jerusalem of heaven. Walking on water symbolized God's control of physical forces such as entropy and death.

Christ's greatest miracle was his resurrection from the dead. You have to admit that if this happened, it would prove that Christ was God in human flesh.
The point is that lots of prophets and holy men in history have made fantastic claims about themselves. Only Jesus Christ lived a life to confirm that his claims were true.
The Christian does not have a problem believing that on occasion God intervenes to influence the flow of cause and effect in our universe -- and even in our personal lives. God might perform a miraculous healing of a disease or ease a physical hardship. God might reveal to another person a "word of knowledge" about another person to inspire faith in a new believer.
While miracles are uncommon they do exist. There are many testimonies of God healing people and providing tangible help in times of need, including healing of diseases after prayer.
Unlike pagan concepts of magic, prayer is asking for the divine mind to act. It is God who has the power to cause an effect, not the supposed power of the person praying. Although there are personal benefits from composing a prayer such as helping the person imagine what he or she really wants, we should not think of prayers for miracles are mechanistic formulae like taking a drug. Such prayers are more like going to the top in an organization to get an immediate answer from the boss. The CEO may answer your request. He or she is not automatically obliged.
Besides requests for healing or to meet some physical need, it is possible to ask God to reveal himself in your life. He may act in such an uncanny or surprising way to convince you that he is indeed real.
Consider his words in John 14:1-8 comforting his disciples at the last supper the night before his death on the cross. Here he claims to be the "I AM" or the divine mind that created the universe. He also offers to help seekers find the way to know and experience God through him.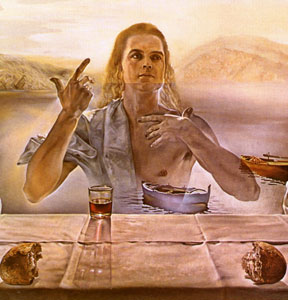 "

Let not your hearts be troubled. Believe in God; believe also in me. In my Father's house are many rooms. If it were not so, would I have told you that I go to prepare a place for you? And if I go and prepare a place for you, I will come again and will take you to myself, that where I am you may be also. And you know the way to where I am going.

" Thomas said to him, "Lord, we do not know where you are going. How can we know the way?" Jesus said to him, "

I am the way, and the truth, and the life. No one comes to the Father except through me. If you had known me, you would have known my Father also. From now on you do know him and have seen him.

" Philip said to him, "Lord, show us the Father, and it is enough for us. Jesus said to him, "

Have I been with you so long, and you still do not know me, Philip? Whoever has seen me has seen the Father."